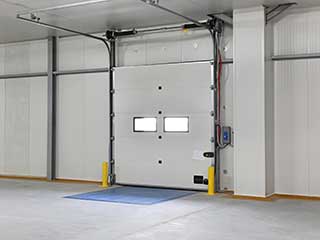 As some of the hardest working parts of your overhead door system, the springs are highly susceptible to wear and tear damage. The very nature of their action and the purpose they serve – helping your door open and close – make them require regular attention. When something goes wrong with these vital components, professional assistance is an absolute must.
Two Different Variations
Torsion springs are the newer and more durable of the two different types that are available today. They are installed above the door, across a metal shaft which rotates and twists them in order to use torque-based tension to lift the door off the ground. Extension springs operate in a different way. They are installed on each side of the door, stretching as it closes in order to use the resulting tension to contract and raise the door up when it comes time to open it.
The Common Issues
The reason springs need to be regularly adjusted and lubricated is to prevent them from developing flaws that could cause them to snap. This makes sure their tension is properly disturbed and that they are able to work as efficiently as possible. An unbalanced door is often the result of a loose spring, while squeaky operation is often a sign that spring lubrication is well past due. Of course, the most dangerous issue that you could experience is a broken spring. Not only can these components hurt someone when they snap, even after that sudden release of tension occurs and your door slams shut, trying to fix things can lead to catastrophic results.
Leave It To The Pros
Whether you need professional spring replacement or to have a technician readjust the tension of these components and rebalance your door, our team is here to help. Call our experts at Garage Door Repair Weston today.
We also take care of:
Overhead Door Installation
Oil Tempered Torsion Springs
Liftmaster Garage Door Maintenance
Remote Opener Clicker Replacement