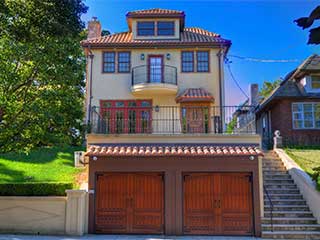 Whether your existing door has gotten old and damaged or you want to improve your home's curb appeal by getting a new one installed, it is important to find a model that's a perfect fit for your house.
Take Some Measurements
It is important to check how big and wide the opening to your garage is. Many door models are only available in a standard size. If you require additional panels, you may be limited to particular ranges of doors. If you have an existing garage door opener, it is important to check any weight restrictions it may have. Heavier panels will require a higher horsepower output in order to move. This may restrict the materials used since some are far heavier than others.
Find The Right Design
Right is a relative term here, of course, as this is really a matter of personal preference. Still, you should consider whether your choice of design is restricted by the specific circumstances of your home. If space is an issue, you may be better selecting a roll-up garage door which doesn't require a lot of backroom space for the door to open.
Different Construction Materials
Again, this is down to personal preference but the material your door will be made of can determine a lot. Wood is a great insulator and very beautiful, but also needs more maintenance than other materials. Steel is strong and durable and adds a lot of security, but it can rust and needs to be protected. Aluminum is cheaper, easily maintained and light as well. But it can dent very easily, and won't be able to withstand more than minor impacts. This doesn't mean that one is better than the other. It only means that under certain conditions, one material can be better suited than its counterparts.
Before You Make a Decision
While it may be tempting to just pick a door, this is the type of investment you would be more than wise to consult with an expert about first. There are various factors that you may neglect to consider, that can turn your wonderful new door to a real nuisance. Before you rush into making a decision, why don't you give our team at Garage Door Repair Weston a call? Not only can we answer all your questions, we will also make sure you get the best deal.