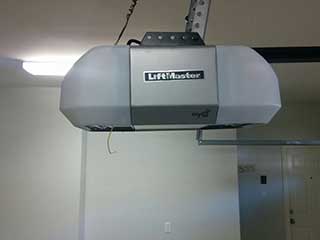 If you find yourself suddenly unable to open or close your automatic garage door, chances are something is wrong with your opener, or some of its related components. Since these are complex electro-mechanical devices, an expert's assistance is required. Not to worry. We're here to help.
Motor Gears and Circuit Boards
Your opener is both the "brain" and the "brawn" of your overhead door. It provides the system with the required horsepower, and also controls and commands it to open and close as needed. The circuit board that the main unit houses can suffer from various malfunctions, including a detached wire or spikes in the electrical surge. Both of these issues can cause it to fail to respond. The motor gear is another common culprit, as it can wear out and even break, leaving your system's "engine" with a whimpering purr instead of a mighty roar. These issues can be incredibly inconvenient, not to mention complex, but luckily for you our technicians can repair all of them.
Finding The Best One
"Best" is a relative term when it comes to garage door openers, as there are many different models available today, from various brands such as Chamberlain, Genie, LiftMaster and more. Every model uses one of three types of drive-systems. Chain-drive openers are loud but also very strong, and tend to be more affordable. Belt-drive units are incredibly silent, but therefore also more expensive. Then there are the screw-drive models, that aren't very silent, but require very little maintenance. Each type can be a great fit for some and a terrible match for others, so deciding which one you need to get eventually comes down to your specific needs.
From Opener Installation to Repair
No matter whether you're having some trouble with your existing unit, or you need one of our experts to assist you in finding a new opener for your home, our team at Garage Door Repair Weston will be more than happy to offer you a helping hand. Call us today.
Count on us for:
Garage Door Tune Up Services
Liftmaster Garage Door Openers
Extension Spring Adjustment
Broken Garage Door Track Repair