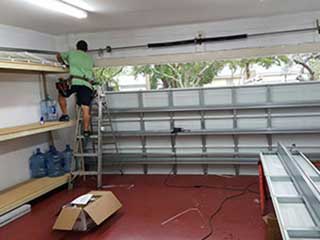 Our team at Garage Door Repair Weston believes that every customer is important. Our dedication to excellence is so strong that we are committed to providing same day services to any local customer.
Choosing Is Harder Than It Looks
If it comes time for you to replace your old system with a new and improved one, the sheer number of choices available to you may be a little daunting. There are so many options, so how do you know what to choose? Well, let us narrow it down for you a little bit.
The Material Matters
What your door panels will be made of is very important, as that can determine the baseline of several qualities, such as insulation and secrutiy, for example. There are a few options you can choose from, and each one offers different benefits and disadvantages.
Aluminum Garage Doors
This material is often preferred for its ability to resist rust and other corrosive elements, as well as for its very low maintenance requirements. However, it also tends to bend and dent rather easily, and won't provide you much in terms of energy efficiency or safety.
Steel Overhead Doors
This material is incredibly strong, as you very well know, and its enhanced durability can add a great security aspect to your home. However, rust is a veritable plague when it comes to steel panels and other components, and therefore some maintenance will be required.
Wooden Garage Doors
Panels made from this material have an incredibly elegant look and they can be painted to match the style of virtually any home. They come in a wide variety of designs from ornate to simple and homely. Whichever design you choose, the curb appeal of your house will be greatly enhanced. The thing about wood, though, is that it requires a relatively high amount of maintenance in order to be preserved, and annual repainting and inspections will be a must. The beautiful look, as well as the natural insulation quality it has, are often well worth it, though.
The Best Brand
Of course, the material is one thing, but the right brand will have some extra quality choices for you, and various enhancement that other low-level manufacturers just can't compete with. Our company works with all of the industry's leading companies, such as Windsor, Raynor, Clopay and more, and our experts can help you sift through the various options and find just the right door for you.
We're Always Happy To Help
The garage door installation process is a dangerous one that - when done right - can prevent a lot of issues from occurring. Whether you're looking to replace your current system or to have a new installed at a new home, we're the team for the job. Contact us today for more information.