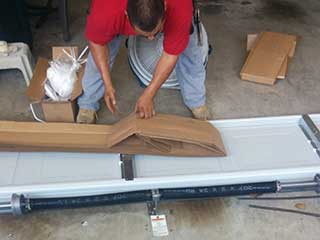 It's Monday morning and you're due in the office at 9 am for a marketing meeting. You've just managed to herd the kids together when your garage door does the last thing you want to happen first thing on a Monday: it refuses to budge.
When it comes to a door that won't budge, you may have some idea about what the problem is, but what you need is a professional you can depend on to pinpoint what the problem is and solve it in a timely and cost-effective manner. Look no further!
Things That Can Go Wrong
We have a team of professional technicians that follow a checklist to quickly identify your specific problem in order to solve it. A garage door that won't move might have any number of things wrong with it. The vertical tracks could be distorted in which case the rollers might also be completely worn. The torsion or extension springs may be about to break or the door cable may be frayed and about to snap. Or, it might that the door opener needs replacement.
Repairing A Garage Door Is Not A DIY Job
With things like broken springs, snapped cables and doors that have come off the track, it's best to put your DIY hat away and leave the problem to the professionals.
Have Your Springs Broken?
Garage doors come with either one torsion spring that uses torque to function, or two extension springs that run along the sides of the door which expand and contract to open and close the door. Since the springs are under high tension, they require technical expertise to replace safely and prevent serious injury.
Are You Looking At Twisted Tracks?
Distorted tracks damage the rollers and prevent them from running smoothly. Unlike the springs, tracks are not as dangerous to repair but it's a tricky process and it's not a job you can do on your own. Instead of trying to elicit the help of an unwilling teenager, why not give us a call? With our experience we can get the job done in a jiffy.
Full-range Repair and Replacement Services
In addition to repairing springs and fixing tracks, our company offers a full range of services including the replacement and repair of door openers, tracks, rollers and door panels.
We take pride in our work and put our reputation on the line every time we go out to service a client. You can count on us to deliver every time. Call Garage Door Repair Weston today to have one of our professionally trained technicians repair your door.
We also offer:
Roll up Garage Door Maintenance
Screw Drive Opener Replacement
Garage Door Cable Replacement
New Garage Door Installation