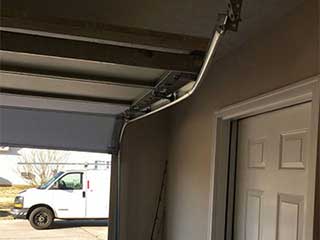 Every time you use your garage door you're putting its various components under a great deal of stress. The rollers, the springs and the cables are intimately involved in the movement process of your door, and if their condition is less than optimal, a lot of bad things can happen. For once, your door could end up getting off track, which is dangerous enough. Still, a lot of other potential accidents can result from neglecting to take care of your system.
We'll Lubricate the Springs and the Rollers
These components must be able to work smoothly and efficiently, otherwise, your door could get stuck, or won't be able to move. Also, the wear and tear damage that your system goes through can lead to you waking up one morning to discover that a spring broke. For those reasons, our technicians always make sure to lubricate any torsion spring or steel roller that you have, ensuring that their working stress will be reduced and their efficiency increased.
Safety Sensor Realignment
Aside from examining the mechanical and electrical parts of your opener and making sure their condition is good, we'll also test your safety sensors. These photo-electric eyes allow the opener to detect an obstacle and prevent the door from closing on it. If their position isn't precise, they will fail to function properly, which can lead to a terrible accident. We'll make sure the sensors are aligned correctly and that your door does in fact reverse when it's supposed to.
The Hardware Parts
Track repair and panel replacement are among the key focuses of our maintenance appointments. We will inspect these parts for rust and dents, and fix any minor issue we find on the spot. If the damage proves to be too severe, we'll simply replace the part in question. Your safety and the optimal performance of your system are very important to us, which is why we will do our very best to ensure them both. Call our experts at Garage Door Repair Weston today.
Need more? We also provide:
New Opener Remotes & Clickers
Emergency Broken Spring Replacement
Garage Door Troubleshooting Services